Courtesy of TREX Company
Dreaming up a new addition to your home can be exciting, but there are quite a few important topics to consider when building a deck, ranging from artistic considerations to entirely practical concerns. Before building your deck, be sure you've gathered information to make fully informed decisions. Some design aspects are easy to overlook, so if you're planning on adding a deck to your house, starting the design process by reviewing a few tips for building a deck can go a long way toward preventing avoidable mistakes.
1. Purpose of Your Deck
While planning a deck, many of the design decisions you make will impact future choices. That's why it's important to begin by thinking about the purpose of your deck. Do you want to entertain guests? Cook for your family outdoors? Make a space for gardening? Is it a private area, or a community meeting place?
Different functions require different amounts of space and different kinds of deck accessories. Not sure where to start? Browse through Trex Deck Lookbooks to find examples of a diverse range of decks to serve as inspiration!
2. Budget
It's far easier to answer questions about design after answering a few questions about your budget. Budgetary considerations are reflected in every decision from the material you choose to the intricacy of the deck. That might mean adding railways, built-in seating, deck lighting, or even choosing an eye-catching pattern for your decking boards, such as herringbone or a geometric inlay. Your budget can also affect the size of your deck, and whether or not you choose a contractor or decide to make it a DIY job. In short, it's a good idea to define your budget as early as possible in the design process. To get an idea of what your budget should be, use an online cost calculator to get a quote for your material cost.
3. Location
The size of a property usually has the greatest impact on deck location. But if you have several potential options for placement, you'll need to weigh several different concerns. The first things to think about are practical questions: the size of the area, the deck's proximity to various entrances of your home, your options for privacy, and the view of the location. The second thing you need to consider is weather. That includes considering wind exposure, the amount of rain/snowfall you expect, and the availability (or absence) of shade.
4. Deck Design
Designing a deck involves many interconnected variables. For instance, determining the size and shape of a deck means striking a balance between budget and location. Even with an unlimited budget, for optimal aesthetic proportions, your yard should be at least twice as big as your deck.
The design should also match the existing exterior of your home because an architecturally gorgeous deck can still look out of place in the wrong environment. It's often easier to balance these kinds of interrelated elements with the help of tools like the Deck Designer.
5. Deck Accessories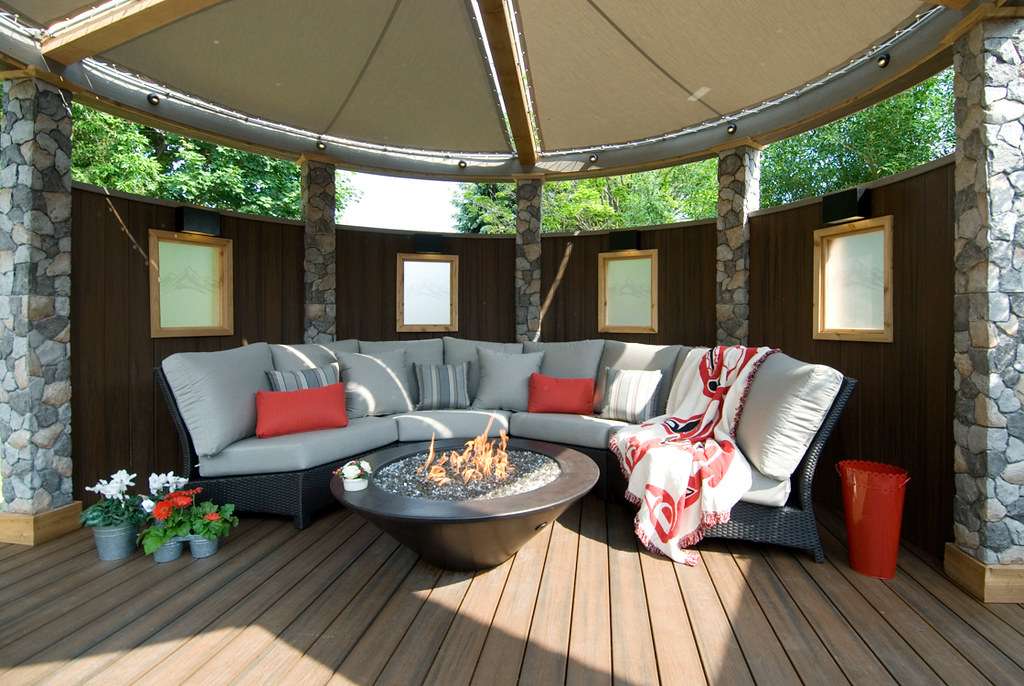 Deck accessories are more than finishing touches, they can actually fundamentally transform the character of your deck. Some examples of the various components you might add include:
● Railing
● Lighting
● Hot-tub
● Planter boxes
● Outdoor curtains
● Built-in seating
● Pool Table
● Projector screen
● Deck gates
● Roofs & partial enclosures
● Pool shower
● Under-deck storage
● Under-deck drainage system
6. Building Codes
Whether you're building the deck yourself or hiring someone, it's worth learning a little about necessary permits and other legal requirements necessary for remodeling or adding to residences. Doing this research before purchasing materials can save you a lot of time and money. Building codes, permitting, and other red tape varies by region. However, in most cases, blueprints need approval from your local governmental body.
7. Storage & Seating
Storage is one of the most easily overlooked features people consider when designing a deck. Whether you use added storage for putting away outdoor cookware and pool towels, or just keeping gardening tools out of sight, storage options can help shape the experience of your deck.
The same can be true of seating. Decks are usually structured as a social space. That means you'll need to put thought into how many people will use your deck at any given time, and where those people are going to be.